Brake Pads
Also referred to as "shoes", brake pads are steel-backed plates with friction-creating material bound to the surface. When braking, two pads are pressed against the rotor until
the vehicle stops.
View our comparisons of Genuine Subaru parts vs AftermarketSalt Spray
The aftermarket brake pads developed significant rust damage after a weeklong  salt-spray test. The Genuine Subaru Brake Pads remained rust-free.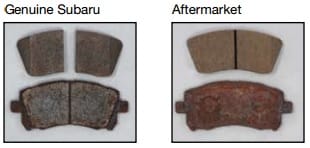 Brake Rotors
Also referred to as "discs", brake rotors (and the wheels to which they are attached) are brought to a stop by the friction generated when the brake pads press against them.
Out-of-the-Box Quality
What appears to be dirt on the Genuine Subaru Rotor is actually a preservative oil designed to protect it until installation. What appears to be dirt on the aftermarket part is actually rust!