Regular tire rotations can significantly extend the life of your Subaru tires
Good tires aren't cheap, and replacing them every few years can get expensive fast. But there are quite a few ways to extend the life of your four Subaru tires, and scheduled rotations is one of the most important. Read FAQ and tips on this page to learn more about how you can get more out of your tires.
Subaru factory recommendations suggest swapping your tires every 7,500 miles--but this is just an estimate based on average driving style and needs. If you tend to be heavy on the gas pedal and the brake, you frequently load down your Subaru with equipment and gear, or you're often driving on bad roads, your local technician may recommend a stricter Subaru tire rotation schedule in Norwalk to better maintain an even wear across all four tires.
People used to believe that AWD cars didn't need tire rotations because all four wheels had equal power; but cars with all-wheel drive, because of their reliance on all four wheels, are particularly sensitive to differences in tire size--and yes, even different wear depths on front tires vs back can make a difference in wet or slippery conditions.
There are a few different tire rotation patterns for Subaru cars that we've seen over the years. 4WD vehicles typically use a "criss-cross" method when they rotate tires, so each tire sees a different corner of the vehicle throughout its life. But for an all-wheel-drive Subaru with same-size directional tires, we only need to swap the tires from front axle to rear to optimize tire wear and extend the life of the tires.
Remember, though: rotating your tires, even perfectly on time, won't help much if tire wear is being caused by other issues, like over/under-inflation, a mechanical problem, a bad alignment, or worn parts. That's why it's important to regularly-schedule your Norwalk tire rotations with the professionals who know your Subaru best.
Covering all four corners of safety with four core technologies
The original equipment tires installed on each Subaru model were selected to perform optimally with each of these four core technologies. The "footprint" of each tire is a critical performance point that helps keep your Subaru safe and operating as designed.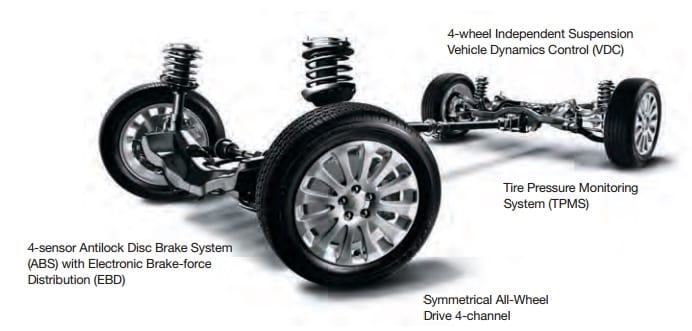 Proper tire maintenance:
Frequently Asked QuestionsHow often should I check my tires?
Taking a look at your tires each time you're about to drive your Subaru is always a good idea - a quick walk-around can help you  identify potential issues long before they become problems.
Checking the air pressure of your tires is  something that you should do at least once a month (a label indicating the appropriate tire pressure for your vehicle is located on the driver's side door jam). Your Subaru Dealer will also check your tires each time you bring your vehicle in for service.
How often should my tires be rotated,
and why?
Your tires should be rotated about every 7,500 miles to help ensure even wear and maximize tread life and performance. Your Subaru Dealer can help schedule and perform this service for you. For more information, please refer to your Subaru Owner's Manual.
When should my tires be replaced?
Tires should be replaced once they reach 2/32" of tread depth. In fact, it is illegal in all 50 states to drive with tires that are below this level. To ensure optimal safety and handling in climates with heavy precipitation, experts recommend replacing tires before they reach 2/32" of tread depth. For more information, please refer to your Subaru Owner's Manual.
We all know that tires wear. There are certain things you, as an owner, can do to help minimize this wear.Keep your tires properly inflated.
This is perhaps the single most important thing you can do. Information on correct tire inflation pressure is provided in your owner's manual and on a placard on the driver's door pillar. How often you check your tire inflation is up to you. As a rule of thumb, tires should be checked every time you fill your car with gas. Remember that tires should be checked when cold since tire pressure will increase as the tires warm up.
Rotate your tires regularly.
SUBARU recommends tires should be rotated every 7,500 miles. These are recommended intervals only. Your actual driving conditions may warrant more frequent rotation. Factors such as road surfaces, driving techniques/habits, vehicle loading, and weather, to name just a few, can all have an effect on tire wear.
Tire Replacement.
The wheels and tires are important and integral parts of your vehicle's design; they cannot be changed arbitrarily. The tires fitted as standard equipment are optimally matched to the characteristics of the vehicle and were selected to give the best possible combination of running performance, ride comfort, and service life. It is essential for every tire to have a size and construction as well as a speed symbol and load index matching those shown on the tire placard. Using tires of a non-specified size detracts from controllability, ride comfort, braking performance and speedometer and odometer accuracy. It also creates incorrect body-to-tire clearances and inappropriately changes the vehicle's ground clearance. All four tires must be the same in terms of manufacturer, brand (tread pattern), construction, and size. You are advised to replace the tires with new ones that are identical to those fitted as standard equipment.
For safe vehicle operation, SUBARU recommends replacing all four tires at the same time. WARNING: All four tires must be the same in terms of manufacturer, brand (tread pattern), construction, degree of wear, speed symbol, load index and size. Mixing tires of different types, sizes or degrees of wear can result in damage to the vehicle's power train. Use of different types or sizes of tires can also dangerously reduce controllability and braking performance and can lead to an accident. Use only radial tires. Do not use radial tires together with belted bias tires and/or bias-ply tires. Doing so can dangerously reduce controllability which can result in an accident.