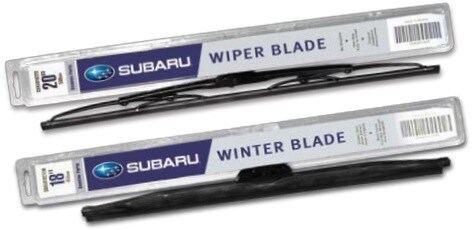 Genuine Subaru Wiper Blades - there's a difference
Sure, you could pick up a set of wiper blades at most any gas station. But you should know that not all wiper blades are the same, and there is a big difference in fit and quality. Unlike many off-brand blades, Genuine Subaru wiper blades have a natural rubber wiping edge to assure a streak-free view. Subaru wiper frames will never rust and are packaged in 100% recyclable clam shell packaging to protect the blades through their storage life.
Steel constructed superstructure
No adapters

One step, easy to install
Original equipment replacement
---

Common Wiper Blade Problems: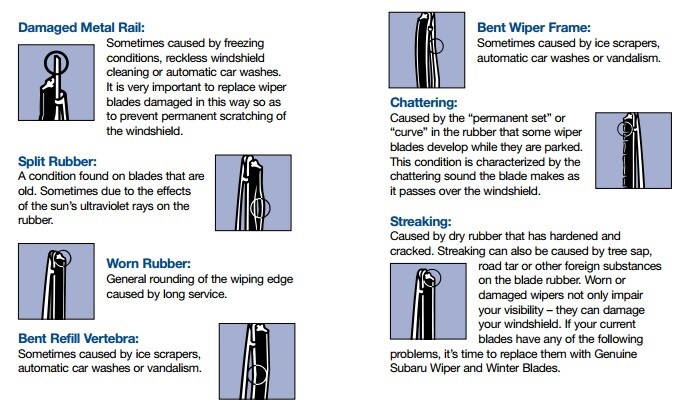 Damaged Metal Rail: Sometimes caused by freezing conditions, reckless windshield cleaning or automatic car washes. It is very important to replace wiper blades damaged in this way so as to prevent permanent scratching of the windshield. Split Rubber: A condition found on blades that are old. Sometimes due to the effects of the sun's ultraviolet rays on the rubber. Worn Rubber: General rounding of the wiping edge caused by long service. Bent Refill Vertebra: Sometimes caused by ice scrapers, automatic car washes or vandalism. Bent Wiper Frame: Sometimes caused by ice scrapers, automatic car washes or vandalism. Chattering: Caused by the "permanent set" or "curve" in the rubber that some wiper blades develop while they are parked. This condition is characterized by the chattering sound the blade makes as it passes over the windshield. Streaking: Caused by dry rubber that has hardened and cracked. Streaking can also be caused by tree sap, road tar or other foreign substances on the blade rubber. Worn or damaged wipers not only impair your visibility - they can damage your windshield. If your current blades have any of the following problems, it's time to replace them with Genuine Subaru Wiper and Winter Blades.